NBA 2022-23 Western Conference Preview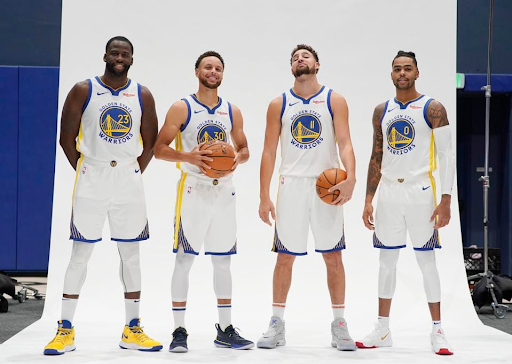 By Michael Pasnik '24
 In the last article, we went over all the Eastern Conference teams in the NBA and previewing them for the upcoming season. As I was uploading it, my editor told me about something called the "Western Conference", so it looks like I'm gonna have to do these teams too. Honestly, I didn't know half of these teams existed until today. Seriously, Golden State? Sacramento? Minnesota? Are these even real places? Anyways, let's see who will have the best chance out of these teams to win it all.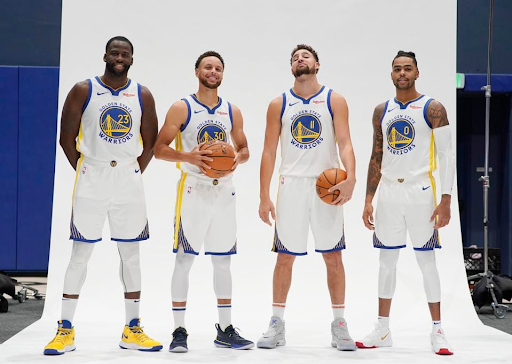 San Antonio Spurs
The Spurs are still rebuilding from the Tim Duncan-Manu Ginobli-Tony Parker years, and it's showing from the players they're fielding. Even though they made the 10th seed last year, it was really only due to the Lakers' collapse that they got in, and they even lost to a much better Pelicans team. Dejounte Murray could have been part of that new team that would return the Spurs to its former mid-2000s glory, but they instead traded him for Danilo Gallinari, who ended up signing a contract with the Celtics barely 2 weeks later. Even though they're still paying him $10M and traded who was by far their best player for him, they still let him walk. I would say that Popp is rolling in his grave, but he's alive and sadly wasting his talent on this wreck of a team. Instead, he's out there watching scrubs like Tre Jones, Jakob Poeltl, and Doug McDermott start. Spurs fans and management alike knew that this rebuild would be difficult, but they haven't made any progress whatsoever, and it doesn't look like their three draft picks will be enough to get them out of this rut. Jeremy Sochan is one of the most versatile defenders in this draft, but I doubt he will be enough.
New Orleans Pelicans
The Pelicans this year have potential to be one of the best teams in the Western Conference this year. That's not a joke. The Pels have amassed one of the best and most underrated rosters that I've ever seen. Their main sticking point, obviously, is the return of Zion Williamson. He's only played 85 games since being drafted in 2019, but he has bulked up like crazy. He looks like a brand new person, and hopefully he'll be returning to what wowed prospects in the first place back at Duke. CJ McCollum looks like a completely different person from his years in Portland. Did you know when he was in New Orleans last year, he averaged 24.3 ppg? That $33M price tag doesn't look too bad, especially when he's paired up with Brandon Ingram, who is quickly becoming one of the best players on the Pelicans. Is it too early to say that the Pelicans won the Anthony Davis trade? Jonas Valančiūnas was an integral part of the playoff run last year, and Jose Alverado proved that he is the best pickpocketer in the game right now. Herbert Jones is probably the weakest part of the lineup, but he's new and should be fitting in well with a great backcourt and frontcourt. The one problem I see is with staying healthy. Zion is an infamously unhealthy player, but if he, and the rest of the lineup, stay healthy, then I have no issue predicting New Orleans making a deep playoff run. This 2022-23 roster could very well define the Pelicans and make them a threat for years to come.
Memphis Grizzlies
The Grizzlies are attempting to come back from a tough loss in the Western Conference Semifinals against the Golden State Warriors. Ja Morant is obviously the linchpin of this lineup, exploding out of the gate early in 2019 by winning the rookie of the year and even being the Most Improved Player last season, which makes no sense at all. If he was the ROTY and then became the Most Improved Player like three years later, by that standard, he should be prime MJ or LeBron or Shaq. Sadly to say, I don't think that's the case for him. Speaking of, Memphis fans shouldn't act like Ja getting injured was the sole reason that Memphis lost in the postseason last year. You were outclassed by a Golden State team, and needed Golden State to be injured instead if you wanted to win. Memphis is backed up by Jason Momoa's long-lost brother, Steven Adams. Jaren Jackson Jr is going to be out for the beginning of the season, but they have a very easy schedule in October and early November, so don't be surprised if they shoot out of the gate. The problem I see with this team is longevity. Sure, Steven Adams and JJJ are good, but other players like Dillon Brooks and Desmond Bane are just not enough to surround Ja with enough good pieces for them to win a title. I still see them making the postseason, no doubt, maybe even making the 1 seed in the Western Conference, but that means nothing, especially from the past few years. Memphis has a lot of time with Ja, however, and can take their time with draft picks and maybe trading some veterans to acquire some good pieces that can combine with Ja and make a much stronger team than this one. For the time being, I don't see them making any championship runs, especially not this season.
Houston Rockets
The Rockets are currently one of the worst teams in the NBA, and I don't believe they'll remove that label this year. The Rockets had their worst season since 1982, which got them Ralph Sampson. I have no idea if Jabari Smith Jr. will become the same player as Ralph, but things are looking up for the Rockets. Sure, they are a long way from the CP3 and James Harden days of near-glory and 27 straight missed threes, and they still have to pay John Wall nearly $40M, but compared to other teams like Detroit or New Jersey, their rebuild seems to be going okay. Although Jabari is relatively unproven, he's going into a market without much expectation and hopefully will be able to develop under his own merit. Unlike Paolo Banchero, who has the entire hopes of the miserable city of Orlando on his back, more people care about the Texans than the Rockets at this point. Jalen Green and Eric Gordon are respectable guards, but they won't be enough to push them into relevance again. Still, my point is that they have a blueprint and a plan for the future, which is more than a lot of other teams, especially in the Western Conference, can say.
Dallas Mavericks
I'm so sick and tired of seeing that stupid photo of Luka Doncic staring at Devin Booker. We get it, them losing by 40 in game 7 at home was funny; please stop acting like Luka Doncic is the second coming of God. Luka is a great point guard, for sure one of the best, if not the best in the league, but he is highly overrated, and I've seen people say, with a straight face, that he could be as good as LeBron or MJ when that won't happen even if Luka somehow got access to the best steroids modern medicine has to offer. The Mavs have a good supporting cast for the Slovenian star, matching him with Tim Hardaway Jr, Christian Wood, JaVale McGee, and quadruple amputee Spencer Dinwiddie. Dallas making the conference finals last year was a great way to give them serious hype entering the 2022 season, but they were absolutely outmatched against Golden State, and didn't look like they should have against Utah or even Phoenix, even though they beat both those teams. Trading away Jalen Brunson for a box of tissues and an extension cord might be a little rough for them since he was a contributor in the playoffs and a great part of Luka's supporting cast. But the Mavs will be great again this year, and although I still see them having trouble in the playoffs, they will obviously cruise to the playoffs and have a serious argument for championship contention.
Sacramento Kings
I feel for y'all in Sactown, I really do. But you just have to accept that you will never be a team that wins. You aren't like other teams like the Mariners, who were consistently average; you are consistently at the bottom of the barrel. Yes, we get it, you got screwed over in 2002, but you guys are just the team that everyone feels bad for. Sacramento's roster could get them an 11th or 12th-place finish at best, but I don't see them getting to the playoffs any time soon. They have a couple of good pieces, such as De'Aaron Fox and Domantas Sabonis. Keegan Murray seems like a good pick, but it will not be enough to give them a huge shot at the playoffs. I think their fanbase would much rather see them tank for Wembanyama instead of actually trying this season, as cynical as that may sound. People reading this might express disdain for me promoting tanking, but you have to remember something very important. This is the Sacramento Kings we're talking about.
Phoenix Suns
Oh, how the mighty fall. Remember in April last season when people were comparing them to the 2014 Spurs? Well, at least the Spurs made it past the second round. The Suns would suffer through a hard-fought series against the Pelicans, no less, and would be defeated after a tough loss by 33 at home to the Mavericks. They kept their old roster together, consisting of their main big 3, Chris Paul, Devin Booker, and Deandre Ayton. They also have good supporting pieces, such as Mikai Bridges and Cameron Johnson. But I think their spirits might have been hurt too much after that loss because in a preseason game, they lost to a team from Adelaide, in Australia, who walked into Phoenix and absolutely owned them. In every sense of the word. Adelaide was defending well, took insane shots, and the worst thing was this was one of the middle of the pack-below average teams in the NBL, Australia's premier basketball league. So imagine if someone like the Sydney Kings or the Perth Wildcats came into Phoenix. They'd probably be so embarrassed they'd dissolve the franchise on the spot. There also seems to be some drama with Deandre Ayton, as he says he hasn't spoken to anyone else on the team since their Game 7 loss back in May. This could cause some issues going into the season, but their immense talent should be able to rectify that. I can see them making a playoff spot, maybe even replicating their regular season success from last year, but they are not title contenders, at least not until they exorcize their playoff demons. Their window is fast closing, and they only have a couple more years until CP3 retires and they fall back into mediocrity. They need to put their petty issues aside and play like an actual team again.
"That Team from Southern California"  
I could fill an entire 150 pages with everything I hate about the Lakers. I despise them so much. And last year was amazing for me. The perpetual collapse of the Lakers, from Westbrook being horrible to LeTrash not being able to carry his cast of extras… It was even more amazing when I saw my hometown Wizards defeat the Lakers in Capital One. But I digress. The Lakers have shown signs of coming apart at the seams, with Russell Westbrook, the one addition that many analysts predicted would push them over the edge of championship contention, turned out to be a massive bust, averaging around 18 PPG but having one of the worst shooting percentages of his career. Anthony Davis is the definition of injury, playing only 40 games last year and is even day-to-day with a back injury. With all of his injuries that he's had, I don't think he'll ever live up to the potential he had back in 2012. LeMickey is old, and I doubt he will be able to win another ring. Even all of their supporting cast (or "extras" in LA) left; Dwight Howard is gone, Carmelo Anthony is gone, and Dennis Schroeder is gonna be out for a while. So pretty much, they made improvements this offseason. Addition by subtraction, if you know what I'm saying. It didn't help that Westbrook, a key part of their offensive scheme, already seems to have beef with Patrick Beverly, who was just traded from the Timberwolves and saved from playing in Utah. All I can say is that it does not look good for Los Angeles, and I know that literally everyone there will start bandwagoning the Clippers in around 4 weeks. I see them competing for Wembanyama this year, however, if they get the first pick, the Pelicans have the option to swap picks with them, so he will not fall into the Lakers' hands. Luckily.
Los Angeles Clippers
The Clippers are coming off last year with a tough play-in loss, which feels like I've said for around half of these teams now. But the Clippers have a huge, burgeoning core that could explode this year. They are, no doubt, one of the most talented teams this year. They have insane depth, starting with the offseason signing of John Wall, who will probably be in a contest with Reggie Jackson for the starting spot. Paul George and Kawhi Leonard, however, are the Clippers' two best players by far. Both with veteran experience, they both were out for a chunk of time last year due to injuries, but they seem to be rehabilitated and ready to go and dominate. Marcus Morris Sr. and Norman Powell give the team some great second options. This team is seriously stacked coming into a tough Western Conference. However, my main concern for them is with their center. Ivica Zubac is not going to be one who hangs with other stronger centers in the league and is definitely the Clippers' weak spot. But if they can either improve on him or improve him, the Clippers could be threats for a while.
Golden State Warriors
The Warriors just got crowned the 2021-22 NBA Champions, and they are keeping the same core while looking for their fourth title since 2015. The Warriors got Klay Thompson back from the injury list and looked like one of the weaker top seeds in the playoffs, but they lit up the Nuggets, Grizzlies, and Mavericks en route to a six-game series win against Boston. Everybody knows Steph Curry, the 2 time MVP and 4 time champion (well, 2 if you don't count KD), who plays hot potato with the basket every time he gets the ball. But the drama surrounding the Warriors has nothing to do with those two. It has to do with Draymond "Triple Single" Green, who by the way, has career splits of 8.7/6.9/5.5, with 71% free throw shooting and a below average efficiency rating and is still viewed as a reason this team wins championships, and Jordan Poole, who serves for no reason but for more people to hate the Warriors. In a practice game, Jordan Poole pushed Draymond Green, which caused Green to tenderize Poole like an uncooked piece of steak. Seriously, I don't like Draymond as a player, but that was one of the nicest punches I've ever seen. But going into the beginning of the season, you might predict that the Warriors will be in disarray because of that, but hey, what's a little assault and battery among friends, huh? The Warriors have insane depth, and this incident will be a footnote in their long and storied dynasty, which no doubt will have a couple more banners added to that catwalk in Oakland. The Warriors will keep blossoming and using their insane talent to win games and become the defining force in the West. What even are intangibles, anyways?
Utah Jazz
Someone in Utah wanna tell me what the Jazz are doing? This season, they traded away their three best players in the midst of regular season drama (i.e., Rudy Gobert refusing to play with Donovan Mitchell for whatever reason), which caused both of them to be traded, somehow. Then they followed that up by trading their best shooter, Bogdan Bogdanovic. The only good return they got from their trades was Collin Sexton, but he's not even starting for some reason. Kelly Olynyk is a career journeyman, Mike Conley is a far cry from his days in Memphis and hasn't been any good since he was on the Grizzlies, and Lauri Markkanen and Jarred Vanderbilt are not that good at all. Jordan Clarkson seems like their one bright spot, but he's a sixth man, not a starter, and Sexton would be much better over him, seeing as he's not even injured. What are the Jazz thinking? What are they doing? Are they citing precedent to try and move away to somewhere else? Where would they go? Why are they doing this? What is happening to the Jazz? There are so many questions I have about this team. This team, let me remind you, is only TWO SEASONS REMOVED from having the best record in the Western Conference. They were the 5 seed last year. So why, why do they think they need to rebuild? And why didn't they get anything from the picks? Rudy Gobert, I see. You could get a much stronger forward than what he's worth. But why trade Donovan Mitchell and Bogdan Bogjonovic? And more than that, why trade them for absolutely nothing if you don't have anything to pair it with??? Why do you do the things you do? I don't see the Jazz recovering from this for years. I will probably be in my 30s before I see them contending again. Utah may act like they have a commitment to winning, but they dug themselves into their own grave with this catastrophe of an offseason.
Portland Trail Blazers
That one took a lot out of me. I need to talk about a team that actually looks good. Oh, thank God, Portland! You guys might actually not suck this year! I think this is the first time someone has been glad that Portland exists. Portland has one of the best lineups coming into this year, especially with a game-changing point guard in Damian Lillard. They have a good, strong center in Jusuf Nurkic, a deep talent in Josh Hart, a hometown talent in Jerami Grant, a good sixth man in Gary Payton II, and a growing talent in Anfernee Simmons. The Blazers have a really good, stacked roster this year, and I think it's overlooked. The Blazers aren't gonna achieve the possible heights of the Pelicans or Warriors. They do have a blueprint for this season, something you can't really say for a lot of their other seasons. If they can keep this core around for a few seasons or so, we could see them become a perennial playoff contender like they were in the late 2010s. But I don't really foresee them winning the playoffs anytime soon. Lillard will probably go down as one of the best point guards never to win a ring. Even though their core is good, I doubt it can stand up to the teams that other teams have put together. Portland does have a good couple of seasons coming to them.
Oklahoma City Thunder
Oklahoma has to be the most pathetic team coming into this season. First off, they drafted Chet Holmgren, who's going to get boxed out by someone like Embiid or Giannis and get flung halfway across the court. He's also injured for the rest of the season, so it looks like they'll try to tank for Wembabyama, but knowing OKC, they'll probably screw it up too. Holmgren is also injured for the rest of the season, which is probably good because he'll get compressed by his jersey. However, everyone else important on the Thunder is also injured. Shai Gilgeous-Alexander and Josh Giddey are both out. They were both huge contributors to the team last year, and losing them will be a big blow to the Thunder. This causes them to have to play scrubs like Luguentz Dort (yes, his last name is actually DORT), Aleksej Pokusevski, and Tre Mann. I want to try and see a positive here, but there is no positive. OKC is genuinely one of the worst teams I have ever seen this year, and I will not be surprised if they set records for ineptitude. The entire state of Oklahoma will be praying to the basketball gods to send them Victor Wembanyama, but more of them will be praying that they don't mismanage him. For the time being, this will be one long, tortuous season for the Thunder. I pity you all.
Minnesota Timberwolves
The Timberwolves have reason to look up. Coming off of a tough first-round loss to the Grizzlies, the Wolves have made great moves to create a serious contender. First, they got Rudy Gobert for cheap to pair with their superstar, Karl-Anthony Towns. Aligned with Anthony Edwards, this big 3 could go really far in an unsure Western Conference. Armed with a great point guard in D'Angelo Russel and a good forward in Jaden McDaniels, this core has one of the highest ceilings in the NBA right now. However, this team is still relatively young, and since Rudy Gobert is new to the team, it will probably take a little bit before we see this team at its full potential. But the future is bright for them.
Denver Nuggets
Jokic has to be the most overrated player in the league. A guy who literally gets benched for defensive purposes, has a worse offensive output than Embiid and Giannis, and still gets MVP over them? Give me a break. The Nuggs are a pretty middling team, and they would be in the trash without Jokic. I may say that it sounds like Jokic is a terrible player, but he does actually have good athleticism and vision. Contrary to what Nuggets fans would have you believe, the world does not revolve around Jokic. The Nuggets also made a pretty bad trade with the Wizards, and now they have Kentavious Caldwell-Pope at their shooting guard position, but that's offset by having Jamal Murray at point guard. Aaron Gordon is a good power forward, and Michael Porter Jr. is an okay small forward. I don't really see Denver doing much more or much less than their team last year. They won't improve off their conference final appearance in 2020, and they will probably drop in the first round like they did last year. Fortunately, they have a young star to build their team around, and they should be able to work around him. But unless he drops 50 in every single game, he should not be getting MVP for a third straight year.
Power Rankings
1: Golden State Warriors
2: New Orleans Pelicans
3: Phoenix Suns
4: Memphis Grizzlies
5: Minnesota Timberwolves
6: LA Clippers
7: Dallas Mavericks
8: Portland Trail Blazers
9: Denver Nuggets
10: Houston Rockets
11: Los Angeles Lakers
12: Sacramento Kings
13: San Antonio Spurs
14: Utah Jazz
15: Oklahoma City Thunder