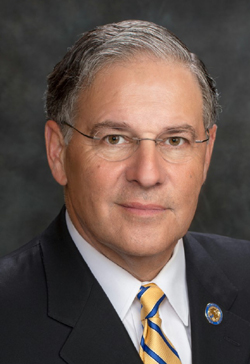 With just five months remaining in the current legislative session in New Jersey, Senator Bramnick has shown his dedication to helping the veterans of New Jersey by introducing three bills over the past year and a half. His bills, S1259, S3464, and S3191, are all tailored to help the citizens of NJ who have put their lives on the line to serve our country. S1259 aims to increase employment opportunities for veterans by expanding the "civil service preference" program [1]. S3464 provides eligible veterans with a waiver from the motorcycle road test requirement [2]. Lastly, S3191 recognizes the medical training received by veterans and grants them credits towards becoming licensed practical nurses [3]. 
When Bill S3191 was signed into law, Senator Bramnick explained: "New Jersey desperately needs more nurses. We can fill some of the void with trained, capable veterans who can quickly be educated, certified, and prepared to step in to help."
Senator Bramnick, currently in his first term as a Senator, previously served nearly 20 years in the NJ General Assembly. As an Assemblyman, he introduced 10 bills related to veterans, with some carried over between sessions [4]. Notably, he successfully sponsored a bill that designated November as Veterans' Month, which was passed from both houses and then signed into law [5].
At the age of 70, he has devoted around a quarter of a century to public service. A seasoned lawmaker of the NJ legislature, he seeks to use his position to help veterans and raise awareness for their heroic contributions.
He explains, "I think veterans are forgotten. Veterans used to be held in the highest esteem, something that was respected. And I don't think they get the respect that they deserve anymore. You very rarely see the media focus on the work that veterans do and the sacrifices that their families make."
As well as raising awareness, the Senator has helped them in their lives after retiring from the military. But this work is, by no means, restricted to legislators. The general public, the press, and the media can all help by spreading awareness of the sacrifices of veterans and helping the veterans in their communities.
He states, "I think that the more stories you tell about sacrifice, and the more you talk about the bravery in the past and even presently, hopefully, it catches the attention, both on social media and in the regular press."
The New Jersey Veterans Network (NJVN) – a charity group sponsored by Senator Bramnick, dedicated to helping veterans – is a prime example of how a community can come together to support our heroes. Groups like the NJVN depend on the general public for donations and support. With its resources, it can help veterans all over the Garden State.
Senator Bramnick believes that because veterans are more often than not selfless, we all must actively "find" their needs first.. "They don't ask for legislation. You almost have to dig and find out what they need, because they're not normally people that are asking for things."
Still, Senator Bramnick urges veterans to reach out for help. "Please call me when you need something. I know you don't like to ask, but we must hear your voice: what you need, what issues you care about. And you can reach out directly to my office. You can do it directly to one of the organizations you're a member of, but speak up because sometimes we just don't know your needs."
Through sacrifice and courage, veterans have protected our freedom and rights. It is the least we can do to help and respect these brave individuals of our community. Senator Jon Bramnick strives towards this goal through his position in the state senate. But we can all do our part in our society to show our gratitude to the people who served our country.
[1] https://pub.njleg.gov/Bills/2022/S1500/1259_I1.HTM 
[2] https://pub.njleg.gov/Bills/2022/S3500/3500_I1.HTM 
[3] https://pub.njleg.gov/Bills/2022/S3500/3191_I1.HTM 
[4] https://www.njleg.state.nj.us/bill-search 
[5] https://pub.njleg.state.nj.us/Bills/2004/AJR/97_I1.PDF