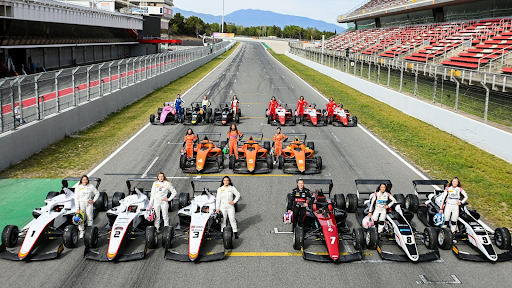 With a dominating lights-to-flag victory in Austin, Marta Garcia became the first driver's champion for the brand-new F1 Academy series, securing the title with two races to go. Hamda Al-Qubaisi would go on to win Race 2, with Jessica Edgar securing her first victory of the season by winning Race 3. 
Supported by the Formula 1 crowd gathered at the Circuit of the Americas and various F1 drivers themselves, this victory was a thrilling end to the inaugural season of F1 Academy. Viewers online were also able to cheer on their favorite driver through their respective region's sports channel, or the official F1 YouTube channel, F1TV.
On November 18th, 2022 F1 Academy was first announced as an all-women single seater racing category designed to help propel young female drivers up the feeder series ladder with the goal of reaching Formula 1 [1]. 
The series would be made up of 5 teams, running 3 cars each, for a total of 15 entries. The participating teams include: Prema Racing, Rodin Carlin, MP Motorsport, ART Grand Prix, and Mercantile Campos Racing. All 5 teams have been notable names in several feeder series for years now, such as FIA Formula 2, FIA Formula 3, and FRECA [2].
The drivers would be racing at various historic tracks, with the inaugural calendar being made up of Spielberg, Valencia, Barcelona, Zandvoort, Monza, Le Castellet, and Austin. The season would host three races at each circuit, with the finale in Austin serving on the support bill for Formula 1's 2023 United States Grand Prix [3]. 
The program would be spearheaded by Susie Wolff as Managing Director. She is widely known for her various roles in motorsports, including being the latest woman to participate in a Formula 1 weekend as a free practice driver for Williams in 2014.
 "The F1 Academy presents an opportunity to promote genuine change in our industry by creating the best possible structure to find and nurture female talent on their journey to the elite levels of motorsport, both on and off the racetrack," Wolff says. "There is a lot of work to be done, but there is also a clear determination to get this right. In doing so, I believe the F1 Academy can represent something beyond racing," [4]. 
Over the months leading up to the opening race in April, various young female drivers were announced to F1 Academy's grid. These included names from the preexisting W-Series, a similar all-female single seater category that had canceled the last three races of its 2022 season, as well as other Formula 4-level championships and karting series [3]. 
Upon its initial announcement, the series was met with mixed reactions. There were many who applauded the efforts of Formula One Management to create more inclusivity for women in motorsports, while others were skeptical that this was the right course of action.  Coupled with the fact that the series would not be broadcasted live for its first six rounds, questions arose on how successful F1 Academy would be. 
Critics of F1 Academy cited the fate of the aforementioned W-Series, which entered administration in June of 2023 [5]. The W-Series had shared the same dream as F1 Academy: serving as a feeder series to aid women in their single seater journey. 
But there were several flaws within the W-Series that made climbing the feeder ladder futile for drivers. Namely, the champion for its inaugural 2019 season, Jamie Chadwick, was permitted to return for the following years. She would go on to win both the 2021 and 2022 seasons by significant margins [6].While this is certainly a sensational achievement for Chadwick, it effectively undermined the purpose of a feeder series. In FIA Formula 2 and Formula 3, once a champion is crowned, they cannot return. It's both a requirement of a series with FIA superlicense points as well as what allows them to attain seats in higher categories to eventually reach Formula 1. 
Allowing Chadwick to return after her first championship essentially trapped her within the series and created an imbalance of experience and skill among the drivers. Though she could no longer collect points for her FIA superlicense following her 2021 championship, she was still able to dominate the rest of the field in 2022 [7]. 
Chadwick has found success in other series following the abandonment of the W-Series. She has been serving as a development driver for Williams since 2019 [8] and recently joined Andretti for the 2023 Indy NXT season [9]. Her championships are certainly nothing to be frowned upon; she is a woman with immense talent, and that has been recognized by those willing to see it. 
Furthermore, Chadwick isn't the only woman to find an opportunity in Formula 1 in the past few years. Recently in September, Jessica Hawkins, also a former W-Series driver, received a test drive with Aston Martin, driving 26 laps in the AMR21. She is the first woman in 5 years to drive a F1 car since Tatiana Calderon in 2018 [10]. 
 There have been several women in sports cars, namely the FIA World Endurance Championship, that have also made a name for themselves. The Iron Dames are likely the most notable ones, achieving several podium finishes with their all-female lineup [11], as well as Doriane Pin, the French driver currently 9th in the LMP2 class driver standings for Prema Racing. 
Michèle Mouton, a former French rally driver, is often hailed as the "Queen of Speed" for her victories in the World Rally Championship, finishing second overall in 1982. When asked about the title fight between the two, 1982 WRC champion Walter Röhrl said that at the time, he felt an immense pressure to win because he did not want to be the first man in motorsport to lose to a woman [12]. 
F1 Academy has made its mission clear: find and give talented young women the chance to obtain Formula 1 the way that hundreds of young men have before them. A large reason behind the lack of women in motorsport is the absence of support. There are many girls in various karting series around the globe, but they simply do not have the means to continue if they are not given the chance by sponsors.
A large part of F1 Academy has been giving these young girls a place to showcase their talent for the world to see. Their global initiative "Discover Your Drive" is centered around increasing the female talent pool in motorsports and inspiring the next generation of women. They focus not only on those on-track, but off-track as well in the form of engineers and team managers [13]. 
Another recent initiative launched by F1 Academy is Champions of the Future Academy, an all-new global karting championship made to support and increase female participation within motorsports. The championship will be set up in three age classes, with F1 Academy backing three female drivers in each. The drivers supported in the oldest category will be offered a test drive in F1 Academy to help create a pathway to join the single-seater series [14]. 
Establishing ties with F1 teams is imperative in order to gain higher opportunities within the sport. Which is why, starting from the 2024 season, all ten F1 teams will be nominating one driver from the Academy to join their junior academy and to run their livery. The remaining five will receive other notable sponsors selected by F1 Academy [15]. 
The 2024 calendar has been announced for F1 Academy, with all seven events being on the support bill for its respective Formula 1 Grand Prix. The season will begin in Jeddah, traveling to Miami, Barcelona, Zandvoort, Singapore, and Qatar, before the finale in Abu Dhabi [16]. This is a wonderful chance for these young drivers to show their talents, gain experience on different tracks, and garner more attention within the F1 paddock.
This is just the beginning of F1 Academy's mission for young female drivers, and the steps they've made in promotion increasingly boosts interest for the series. The directors have made it clear that they're determined to keep the program alive and successful by learning from the mistakes of the past and aiming towards the brightest future for the sport. 
[1] https://www.formula1.com/en/latest/article.formula-1-announces-f1-academy-a-new-all-female-driver-series-for-2023.6EAcJceyDTqjKkMcPMwk9e.html
[2] https://www.formula1.com/en/latest/article.f1-academy-announces-the-five-teams-entering-2023-2025-seasons.23Bz3PQR8SslZbVET5zE7R.html
[3]https://www.formula1.com/en/latest/article.f1-academy-announces-2023-calendar-and-race-weekend-format.SCXLGPxYuH0XepZbB2fzA.html
[4]https://www.formula1.com/en/latest/article.susie-wolff-announced-as-new-managing-director-of-all-female-f1-academy.AvUWetaULyj1yb4D9asVx.html
[5]https://us.motorsport.com/w-series/news/w-series-enters-administration/10483015/
[6]https://formulascout.com/w-series-season-cut-short-chadwick-declared-champion/99576
[7]https://www.racefans.net/2022/02/22/chadwick-makes-surprise-return-to-w-series-for-second-title-defence/
[8]https://www.williamsf1.com/racing/news/2019/05/jamie-chadwick-joins-williams-racing-driver-academy
[9]https://racer.com/2022/12/01/chadwick-joins-andretti-for-2023-indy-nxt-season/
[10]https://www.espn.com/f1/story/_/id/38494496/jess-hawkins-becomes-first-woman-drive-modern-f1-car-five-years
[11]https://www.ironlynx.it/news/the-iron-dames-shine-at-the-fia-wec-6-hours-of-portimao/
[12]https://dirtfish.com/rally/wrc/rohrls-apology-to-mouton-after-four-decades/
[13]https://www.f1academy.com/About/3raJxWqscc9cuLU58L6C8v/f1-academy-discover-your-drive
[14]https://www.f1academy.com/About/1LycRALmQQ66cwFqPlLONy/champions-of-the-future-academy
[15]https://www.f1academy.com/Latest/1OnyO0KBfbAIWbs4ywG6ia/all-10-formula-1-teams-will-have-f1-academy-drivers-and-liveries
[16]https://www.f1academy.com/Latest/2dGi97cuvVDBlht776fhS/f1-academy-announces-2024-calendar