Casey Affleck: The Importance of Taking Sexual Allegations Seriously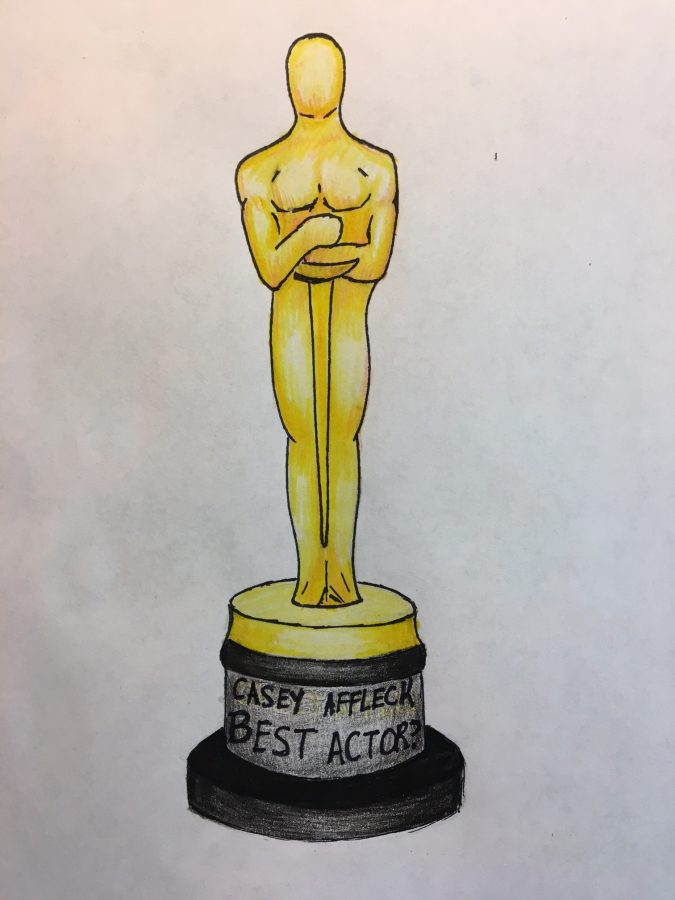 Dhristi Raval '20
April 10, 2017
At the 89th Academy Awards, Hollywood awarded Casey Affleck the distinction of Best Actor in a Leading Role for his performance in Manchester by the Sea, despite outstanding sexual assault allegations against him. In 2010, two women who had worked with Affleck filed unresolved sexual harassment suits against the actor. Affleck continually disregards these allegations, but many critics still fault the Academy for rewarding him.
As a society, we have a tendency to overlook these allegations and disregard them. There is an evident trend in the entertainment industry of ignoring actors' questionable personal lives. Hollywood's readiness to disregard male misconduct in particular bothers an increasing amount of people.
Mel Gibson, another popular actor, for example, was caught on tape making misogynistic comments while under arrest for DUI. A domestic violence investigation was launched against him in 2010 as well, when he was accused of leaving an abusive voicemail for his ex-wife, Oksana Grigorieva. However, Gibson still won the AACTA Award for Best Direction in 2016 and subsequent Academy Awards for Best Picture and Best Director.
In 2009, Chris Brown, a hip-hop artist, was convicted of assaulting his ex-girlfriend, Rihanna. He punched her in the face, broke her arm, and even threatened to kill her. Though Brown was sentenced to five years of probation following the assault, he has managed to maintain his fame throughout the ordeal. Chris Brown continues to receive various accolades such as the American Music Award for Artist of the Year, the Grammy Award for Best R&B Album, and the Billboard Music Award for Top Male Artist.
Even Donald Trump, the current president of the United States, had thirteen women accuse him of sexual assault. He was also caught on tape making sexual and objectifying remarks about women. Trump downplays his remarks by referring to them as "locker room talk." He denies ever kissing or groping women without their consent. Despite these shocking accusations and personal conduct, Donald J. Trump is nevertheless the President of the United States of America.
Overlooking these horrifying cases of assault in the name of "art" is detrimental and injurious to the younger generation. Rewarding such unacceptable behavior teaches the next generation of boys and girls the wrong lesson. Looking the other way demonstrates that this kind of conduct is justifiable in our society.
Shivani Pilimari '17 observes, "Lately, harassment or sexual assault isn't considered much of an offense. People don't take it seriously; they joke about it and completely ignore it at times. It's disgusting, and that's always how it's been."
If assault is not taken more seriously, these actions will become even more tolerated in the future. Men who abuse their power and mistreat women can continually reap the benefits of their success. Girls will grow up in fear of being violated and abused in their lifetime. Dan Lu '20 states, "Society's views on assault will only become more corrupt if we continue to reward people accused of such dreadful actions."
On the other hand, we have the power to change this social stigma. We can educate young boys and show them that they must respect women rather than treat them merely as sexual objects. If we, as a community, can encourage people to treat each other with dignity and civility, we can ensure that everybody will move through the world free from the terrorizing fear of sexual assault.