Thoughts on the Psyche: Being Mindful About Mental Health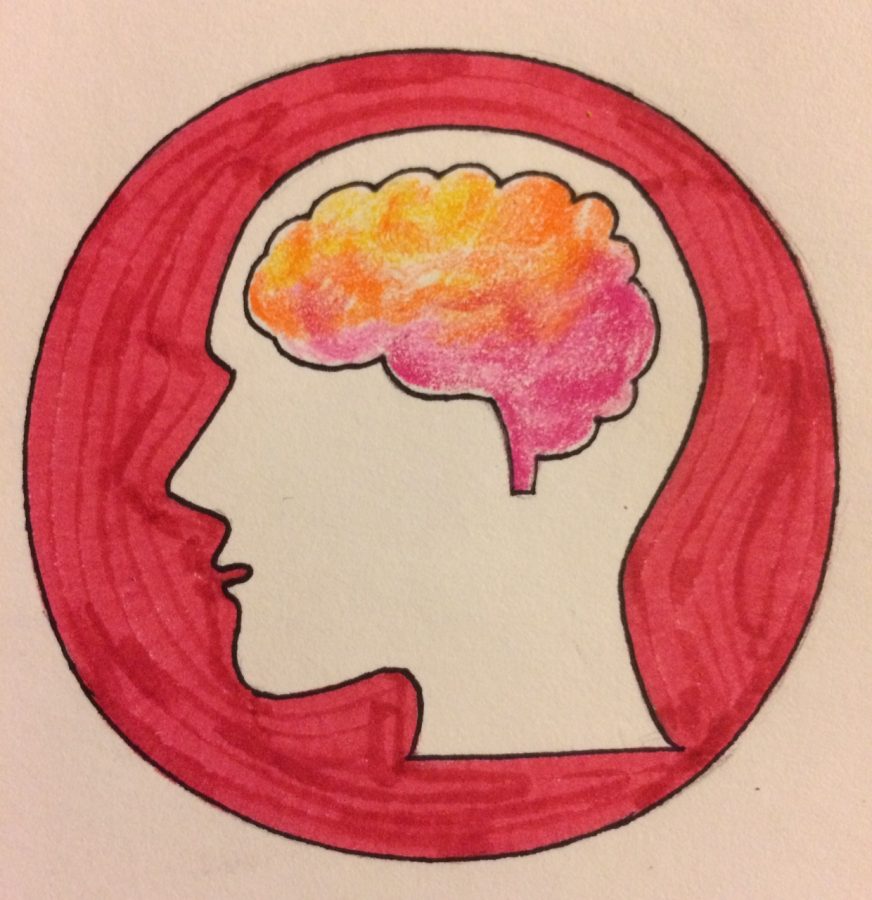 Ruiyan Wang '17, Editor-in-Chief
April 7, 2017
On January 25th, the weekly Friday Folder included a letter in which Superintendent Nick Markarian called upon Bernards Township parents to support three central "district goals." One of these objectives— to strengthen "social emotional results"— focuses on the betterment of students' mental health, an issue that proves particularly pressing in light of the heartbreaking incidents that have befallen the community in the past year.
Since announcing the district's current ambitions, the Bernards Board of Education has made a variety of admirable efforts to combat adolescent stress and depression. By March 7th, students could access a myriad of resources concerning suicide, substance abuse, and violence prevention through the new BernardsBOE crisis prevention webpage. Not only does the site include general information, but also it provides links to district-specific initiatives regarding the aforementioned issues. ( http://www.bernardsboe.com/students/crisis_prevention/) In class, teachers distributed safety resource "business cards" with hotline phone numbers as well.
To involve parents and staff in the campaign to bolster student mental health, a series of speakers has been hosting presentations throughout Bernards Township schools. Recent special lectures have addressed internet safety and the process of coping with traumatic loss. At PTO meetings, district administrators and counselors have been similarly directing conversations with families about "Teen Social Issues" and "Teens and Social Media."
These initiatives are undoubtedly steps in the right direction. Still, the necessity of sustained focus on adolescent mental health cannot be understated; constructive but isolated adjustments to the student body's mentality are not enough to instill lasting positive change.
Fundamentally transforming the psychological climate in Bernards township schools begins with encouraging open and honest dialogue between students and adults, something district administrators have already begun promoting. However, talking about suicide, substance abuse, mental health, and other "teen issues" too often makes for daunting and otherwise awkward conversations. Moreover, constraining discussion to the immediate aftermath of tragedy or specific two-hour evening seminars only heightens the pressure and anxiety of approaching these sensitive, yet critical, matters.
In order to diminish the stress of these conversations, it is imperative for students to have a continuum of mental-health support. The Guardian's Self-Esteem Team suggests that "In biology we can discuss mental health when we learn about how the brain functions, in English we can touch upon an author's mental state… By consistently and casually mentioning a topic we take away some of the scariness." Frequent and relaxed acknowledgment of mental health in everyday life, as opposed to high-stakes "talks", effectively destigmatizes the subject, making teenagers more comfortable and more inclined to approach adults with concerns.
Timothy Chen '17 agrees, noting that "Many parents do not talk with their kids about how they're feeling all the time. They probably don't even know how to initiate these conversations. It's up to the schools to model the kind of positive dialogue and behavior that families should internalize and apply at home."
Students, too, should take it upon themselves to pay attention to their personal mental health. Research has increasingly substantiated the utility of "mindfulness", a psychological wellbeing phenomenon that promotes meditation and focus on the present, to combat negativity and stress. National Mental Health Institute Director Tom Insel clarifies, "When depressed, people are locked in the past. They're ruminating about something that happened that they can't let go of…When they're anxious, they're ruminating about the future — it's that anticipation of what they can't control." Centering one's thoughts wholly on the "now" prevents pervasive and consuming angst that could foment illness.
Fortunately, mindfulness is easily adaptable to busy student life. Small routines, such as five-minute meditative study breaks or daily walks to clear one's head, accumulate to a substantial positive net effect on the individual psyche, when integrated and practiced consistently. At Ridge High School, Ridge Chill, a new club led by English Teacher Mr. Pernice, is dedicated to providing interested students with a space to de-stress via mindfulness techniques. There are also several free apps, including Headspace, that teenagers can use for on-the-go guided meditation.
Peyton Robb '19, a user of Headspace, testifies to the advantageousness of regular mindfulness practice: "It's really nice to set aside some time, no matter how little, to check in with yourself every day. Sometimes it's easy to get caught up in responsibilities to other people, but mindfulness helps me cope with the daily hustle."
The advancements in attention to student mental health that Bernards Township school administrators and staff have incorporated are commendable and have indubitably sparked useful cultural changes. Hopefully, the Board of Education will continue to uphold its commitment to "social emotional results," serving as a positive example for its families, students, and the community at large: advocating for regular dialogue, with oneself and with other people, about mental health is crucial to this process.
Works Cited
Gregoire, Carolyn. "How Mindfulness Is Revolutionizing Mental Health Care." The Huffington Post. TheHuffingtonPost.com, 23 Jan. 2015. Web. 02 Apr. 2017.
Devon, Natasha, and The Government's Mental Health Champion for Schools. "How to Promote Good Mental Health among Teachers and Students in Your School." The Guardian. Guardian News and Media, 01 Mar. 2016. Web. 02 Apr. 2017.