The College Process: It Doesn't Have To Be That Bad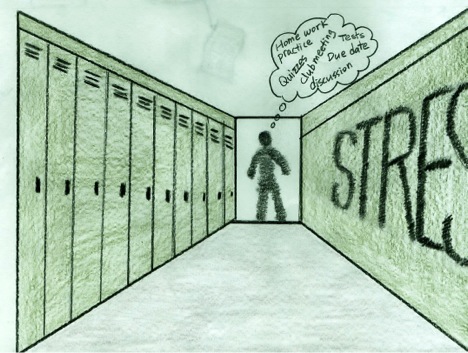 Emma Havighorst '16
October 1, 2014
Hang on for a minute...we're trying to find some more stories you might like.
College fairs. College visits. College applications. More often than not, the college process, which encompasses all these things, strikes fear into the hearts of juniors and seniors alike. But why do we feel this way? Does it have to be so stressful?
College, once we get there, will be the opportunity of a lifetime to meet new people, gain independence, and learn more about what you want to do and who you are. The road to get there shouldn't be this bad.
Ridge students are prone to feeling more fear about the college process than most other high school students partly because of the amount of emphasis and stress our school faculty, administration and guidance department place on the process starting as soon as we step foot into school.
As a junior, Lianna Shimoun '14 has felt this pressure, stating, "High school is all about test taking and college preparation and not just about learning. There is so much pressure put on students by themselves and by their parents to get into a good college."
In addition, there is a lot of intra-grade competition, and more often than not you hear whispers of "so-and-so got an A on that test everyone else failed" or "this person has a 4.7 GPA already".
Alexandra Kyros '16 voices one of the issues with the competitive nature in our school: "People are super wrapped up in where everyone else is going and how their college choices size up to others that people may not always think about where they fit the best."
In this regard, Alexandra is just voicing the opinion of many. In fact, Jessica Burchett '16 agrees, adding that as students "we shouldn't feel pressured to go to Ivy Leagues. We should be presented with colleges and look for one that suits us as people as well as students."
When students end up constantly comparing their grades, test scores and the schools they are applying to with those of other people, they are bound to feel negatively about their choices or feel like they need to go to other schools to have a chance at success. In general, the pressure put on students during the college process is built up from school, from ourselves, from family, and from our peers.
I was already feeling this stress last year (when I was a sophomore) just from the school environment, and I was concerned that I was falling behind in terms of grades and college-preparedness. But then I realized, not only was I freaking out about college applications way too far in advance, but I was also dreading anything to do with college and the entire process. I realized I didn't want to forget to live my high school years. I didn't want to look back and have no fun memories, just reminders of the stress. That realization was a huge wake up call for me.
Looking back on the last year, it's hard to imagine seeing the college process in such a negative light. I was closed-minded, stressed, and aggravated by the whole thing, and it made my outlook on school and college take a very negative turn.
I know it may be hard, given the pressure put on us from every which way, but I'd like to challenge each Ridge student to enjoy themselves while they attend college fairs and meetings, take tours, begin writing essays and start asking for teacher recommendations. Remember that this process is the first step towards the rest of your life, towards independence, towards making your own choices, and towards the college life. Starting it with a negative outlook will only make it harder and more frustrating in the long run.