Ridge's Spring Musical—Fiddler on the Roof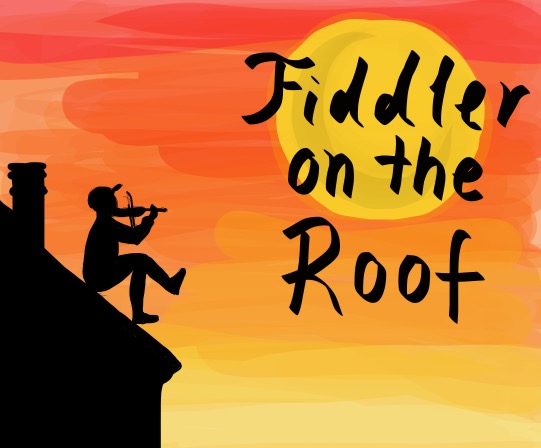 Emma Reilly '20
February 16, 2017
Hang on for a minute...we're trying to find some more stories you might like.
On February 23, Ridge High School's Drama Club will produce the musical Fiddler on the Roof, by Joseph Stein and starring Owen McKenna, Virginia Lafean, Rohin Verma, Sydney Vollmar, Helen Shen, Chance Friedman, and Emily Kopchains. This musical, different from Ridge's past productions through its sheer earnestness and emotion, will no doubt blow audience members away come February.
Fiddler on the Roof tells the story of Tevye, a poor milkman, and his Jewish family, who live in Russia during a time of Anti-Semitism. The musical revolves around the traditions of Tevye's community and how the younger generation chooses not to blindly comply to them. The challenge of these century-old traditions causes the little town of Anatevka to truly ask itself what is the more important—culture or family.
Jake Shane '19, who portrays the Innkeeper, describes his overall takeaway from the show as being that "traditions do help us through our way of life, but it is essential that they transition and change to make sure we, as humans, mature and develop."
A staple of Broadway fame, Fiddler on the Roof has touched audience's hearts since it opened on Broadway in 1964. Starting as a short story titled "Tevye's Daughters," then adapted into a blockbuster musical, Fiddler on the Roof is famous for how it candidly takes on some of the most pressing topics of the recent generation, while still expressing the warmth and humor of a musical.
While the show does take place in 1905 imperial Russia, Jaya Patel '20 assures us that this will not hinder the audience's ability to relate to the characters: "I think that, at one point, everyone has made a choice that maybe their family didn't agree with or that their faith didn't consent to. Tevye's daughters are forced to make huge decisions like that, and as audience members, you witness how their lives change drastically due to them. I think that every generation faces the choice between being true to yourself and following others' wishes, and it will continue to be a struggle people can relate to for years to come."
The Ridge Drama Club has taken preparation for this production very seriously. It held auditions for the show in late November, and since then have held rehearsal typically for two to three hours a day. Since opening night looms closer, the nights of rehearsal ending at six or seven and starting around two thirty begin. Despite the grueling schedule, the cast assures us that the process is nothing other than fun, even though they might need a few gallons of coffee here and there.
Fiddler on the Roof finds a way to be humorous and family-oriented, while still portraying some of the most difficult situations that many people face. It is sure to be one of the most memorable performances in Ridge Drama Club history.