R. Kelly: Where's The Line?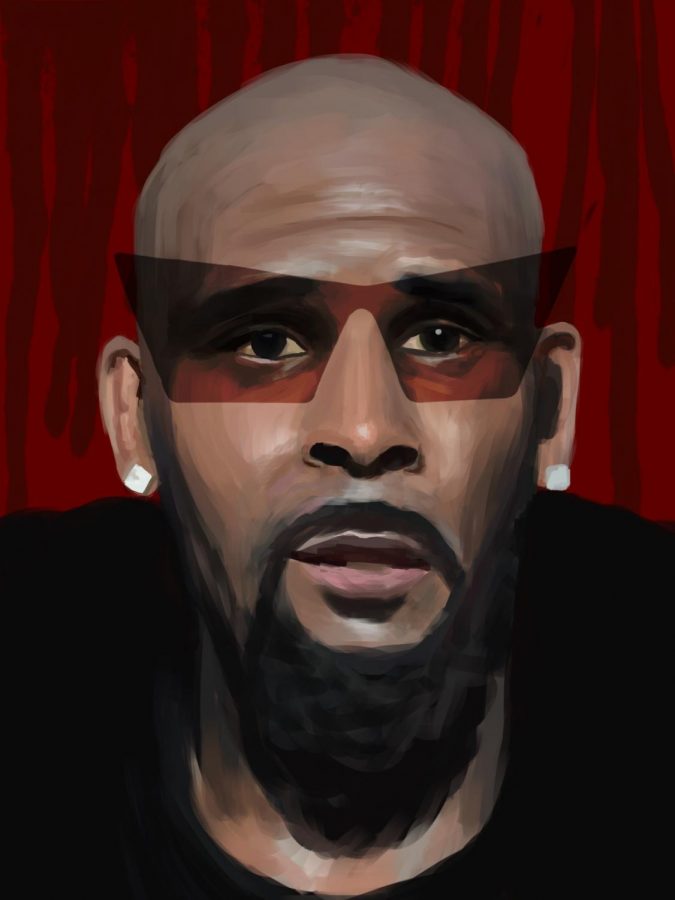 Dhristi Raval '20
April 8, 2019
Since the late 1900s, successful R&B artist R. Kelly has received many accusations of sexual misconduct, including childhood pornography and underage sex. In 2008, R. Kelly allegedly had sexual relationships with a 13-year-old. Video evidence of the assault was found, but Kelly denies being the man in the video. Currently, R. Kelly is jailed in Cook County for failing to pay child support. In the era of #MeToo, many predict that R. Kelly will not be able to avoid confronting his allegations and will receive a lengthy sentence.
R. Kelly has been charged with ten counts of felony sexual abuse, which would each have sentences from three to seven years. The age of the women involved ranged from 13 to 16 years of age, and there are at least 12 women who have given statements about sexual abuse to a grand jury in Illinois. Buzzfeed released a story stating that Kelly was operating an abusive sex cult in Chicago and Atlanta. Latresa Scaff and Rochelle Washington claim that he exposed himself to them after a concert, asked them to participate in a threesome, and took them to his hotel room. Investigations are continuing in New York, Detroit, Atalanta, and on the federal level. Additionally, celebrity lawyer Michael Avenatti reportedly gave prosecutors a 45-minute video that shows Kelly sexually assaulting an underage girl. This video is likely to play a key role in his case.
Documentaries, families of missing women, and a growing backlash against Kelly are currently pressuring local authorities to investigate claims. Kelly's accusations have ranged over an extensive period of time. In 1996, Tiffany Hawkins sued Kelly accusing him of having sexual relations with her when she was only 15 years old. Kelly settled the lawsuit a year later for $25,000. In 2001, Tracy Sampson sued Kelly claiming she was involved in an abusive sexual relationship with him when she was 17. In 2001, Jerhonda Pace claimed she was 16 when he abused her physically emotionally and physically, and she later accepted a cash settlement from Kelly. In 2002, Patrice Jones claimed Kelly impregnated her when she was underage and forced her to have an abortion; this case was settled out of court after Kelly paid an undisclosed amount. In 2018, Kelly was accused of purposefully infecting a former sex partner with an STD. In 2019, Danielle Williams claimed that Kelly had relations with her when she was 16, where Kelly paid her for sex, locked her in a hotel room for three days, and asked her to talk like a baby.
The New Yorker reported just this week that a second grand jury is being convened in the Southern District of New York based on investigations by both the FBI and IRS. The Department of Homeland Security has also reportedly formed a group of investigators to wade through potential evidence about Kelly's alleged sex crimes. Kelly's record label RCA/Sony dropped him, and Spotify has removed his songs from all of its playlists.
The #MuteRKelly movement has also been gaining momentum after issuing an open letter that called on the music industry to cut ties with the singer. Lady Gaga and Celine Dion recently pulled their duets with Kelly from multiple streaming services. Chance the Rapper has also voiced his regrets about working with Kelly. Akash Mishra'20 emphasizes that "it is obvious through his unprecedented anger that he has violent tendencies, and when we listen to his music, we encourage those violent tendency."
As a society, it is our responsibility to set the standards for what behavior will be tolerated. By listening to R. Kelly's music, we are contributing to a culture in which sexual misconduct accusations are not taking seriously. Emma Reilly '20 expresses that "it is disgusting that people continue to empower artists despite the severity of their allegations."
Young men and women will not take sexual assault seriously if many criminals are successful in spite of them. Through emphasizing the severity of sexual assault, we highlight that such unethical behavior will never be tolerated in our society. Particularly in the #MeToo movement, we should not only hear the stories of men and women that have suffered, but ensure that offenders face repercussions for their actions.
By putting emphasis on the importance of consent, we can ensure that we live in a society where people no longer have to fear walking the streets at night. We have the power to change the radio channel when abusive artists are celebrated. We have the power to listen to survivors who have gained the courage to speak out about their experiences. We have the power to change.